A value proposition is the 'essence of strategy' – a statement that represents the core strategy and describes the distinctive competitive advantage of your business. Originally coined in 1985, a 'successful' value proposition should act as a foundation for ongoing relationships as well as a way to communicate true differentiation from the competition. (Frow et al. 2014) In fact, a study performed by the CTBC Financial Management College in Taiwan found perceived value is the most important aspect in generating brand loyalty.
According to Bill McNeice writing for TTEC (2014), "Sustained success in today's market requires the traditional financial services sector to focus its attention on retention and expansion of the client relationship." Which can be especially difficult for banks and credit unions, who's value proposition often must encompass the entirety of an account holder's potential life journey.
Putting the Right Foot Forward
It is important to remember a value proposition is not a slogan or a catch phrase. A good value prop:
Is easy to understand
Avoids abbreviations, jargon, and generic hype
Differentiates from competitors
Can be read and understood in five seconds or less
Good examples of value propositions include Stripe's "Payments for developers. Stripe makes it easy to start accepting credit cards on the web today." Or Evernote's "Remember everything. Capture anything. Access anywhere. Find things fast." What about Square? "Start accepting credit cards today."
Developing these simple yet powerful phrases can take some time and energy. But how often have you abandoned a website because you either did not understand what the company did or were provided no compelling reason to stay?
And no one is immune. Most companies must try and test a string of value propositions before discovering the one that works best. The key is understanding there is always room for improvement…and building and testing accordingly.
The good news is there are general rules for formatting and development that can help guide anyone to generate a better value proposition.
As a foundation for relationships and a way to set expectations, it is important that your message accurately reflect your institution's culture as well as its products and services. What does your product/service do? How does it help? What are the features? What sets you/it apart?
Then, it is time to consider your target audience – current and potential account holders. What drives their need to work with your institution? What hidden needs might they have? What are the risks they may encounter working with you? Finally, what other options do they have for their financial services? What might they be doing instead of coming to you?
Download a PDF of this template to use in your brainstorming here.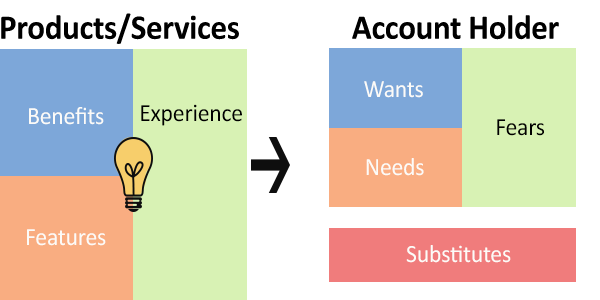 Once you have everything down, it is time to distill the information into potential value propositions. You will need:
A short headline sentence
2-3 supporting sentences
Up to 3 bullet points
A visual
Try creating a couple options that you feel communicate your institution's true value. Then it is time to test.
Testing a Value Proposition
Different financial institutions have differing ways they prefer to communicate with account holders. However, as email is the way most consumers like their brands to connect, it should most likely be included in planned outreach. Then, determine the standards for your testing. What metrics are you measuring? How are you comparing the outcomes?
When determining metrics, consider the channel. For emails you will typically measure opens as well as any other activities related to your CTAs. For social media, you are likely to measure click through rates and along with any accompanying activities on the associated landing pages. For more "traditional" mediums, calls or online inquiries could help determine results.
As for comparing outcomes, there are several ways to compare metrics including historical data and industry bench-marking. This article from MarketingProfs has an excellent outline of metric options.
As an example, let's say your institution uses Facebook and Instagram in addition to email messaging. Use your text and visuals to create a series of content options for each of these three platforms. Then, set a timeline to appropriately map responses to your message. Be sure to only test one option at a time in order to better determine exactly which version is contributing to specific results.
When it comes to your financial institution's value proposition, it is important to get things right – and keep them up-to-date. While it might mean some additional work and occasional benchmark testing, the benefits can be far reaching.