If you are rolling your eyes or huffing in disbelief right now, I'm talking to you. Whether it's five cents or five hundred dollars doesn't matter. Every single time you are put away money is a step toward a better financial future.
Why Americans Find it So Hard to Save?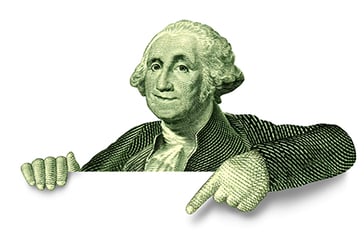 We all know having money in the bank is a good thing. Yet, as a country, we fail to regularly save our earnings. Let's take a look at the facts:
For the majority of workers, the significant barrier to saving money is the need to spend it. Home prices have risen 114% since 1960. Rent prices have increased by 750%.4 Overall, the cost of living has grown 14% over the past three years alone.5 What would have cost $20 in 1999 would now cost closer to $31.6
Thirty-eight percent of workers state expenses are the number one reason they cannot save their income. Another 16% cite their overall income, and 13% note their debts keep them from being able to save. In short, many Americans are living paycheck-to-paycheck and struggling to keep up with everything from basic life needs to healthcare and consumer culture.
You Really Can Save Money
No, seriously, it is possible. Start with these three steps.
Get a free checking and savings account.
Start as small as you need. Just get started.
Make it a habit.
Treat it like it's gone.
One of the significant setbacks for many Americans is a lack of bank options and banking fees. Signing up with a fee-free banking option allows you to begin with a lower balance and build up your wealth without the worries of being charged extra to house your money. Most fee-free banks and credit unions have online banking, direct deposit, remote check deposit, and ATM surcharge reimbursement or surcharge-free access. Be sure the program allows you to set up a free savings account, as well. Here is a list of some no-fee bank accounts available.
Once you have your accounts set up, you can begin saving. Start as small as you need, such as rounding up to the nearest dollar for every purchase you make and transferring the difference to your savings account. If you come into additional funds such as gifts, bonuses, or tax refunds, be sure to push a portion of that to your new savings account.
It takes around two months, or 66 days, to create a habit.8 So, the more often you take a moment to push those pennies to your account the more likely you will continue on the path to savings.
Now for the potentially hardest part – maintaining your savings. Financial difficulties can make it difficult to keep an eye on the future. But that money is your safety net and nest egg. Sometimes the best way to approach savings accounts is often to pretend the money has disappeared until you absolutely need it.
Following these quick steps can help you (Yes, you!) start saving some of your money. You might not be able to save a million dollars right now. But every penny can help you build some future financial security.
Sources:
1 https://www.cnbc.com/2019/03/14/heres-how-many-americans-are-not-saving-any-money-for-emergencies-or-retirement-at-all.html
2 https://www.bankrate.com/banking/savings/financial-security-march-2019/
3 https://finance.yahoo.com/news/58-americans-less-1-000-090000503.html
4 https://www.cnbc.com/2018/04/17/how-much-more-expensive-life-is-today-than-it-was-in-1960.html
5 https://www.gobankingrates.com/making-money/economy/rising-cost-of-living-in-america/
6 https://www.investopedia.com/ask/answers/101314/what-does-current-cost-living-compare-20-years-ago.asp
7 https://www.thebalance.com/best-no-fee-checking-accounts-4163044
8 https://jamesclear.com/new-habit