Consumer banking trends indicate a growing preference for self-service and digital channels, and a continued decrease in personal account holder interactions. In fact, recent studies have show the use of self-service and digital banking channels rising from twenty-seven percent (27%) in 2012 to forty-six percent (46%) in 2017, according to PwC's 2017 Digital Banking Consumer Survey.
"As they create a better understanding of their money and how it is used, self-service banking users show an increased need for financial products beyond standard accounts."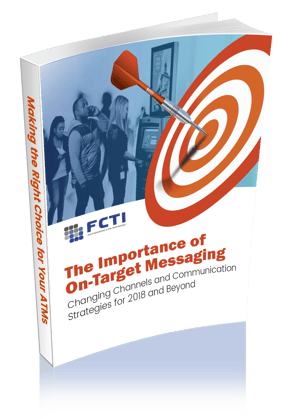 The level of convenience and control these self-service expect is also affecting financial behaviors. The result? A valuable new market of financial consumers that demand, respond, and communicate in a completely new way - leading financial institution marketers to work overtime finding new ways to connect, educate, inform, and advertise the growing number of services being provided for their customers and members.
How can your institution capitalize on marketing messaging that works? Discover more about today's changing channels and communication strategies for 2018 and beyond in this FREE white paper from FCTI!
Download the FREE White Paper Here: