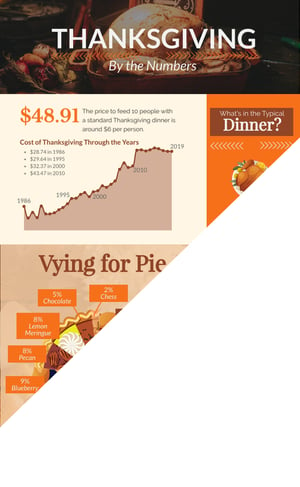 Thanksgiving is often viewed as the beginning of the holiday season. For many Americans, it is both a celebration and the last moment to take a breath before the year-end run of parties, events, and family.
For others, it is yet one more impact on health and wallet. For those hosting a dinner, the time, effort, and expense can be especially consuming.
But there is good news for those on the cook's end of the festivities for 2019. The standard food items for this holiday dinner have stayed on the lower end for the second year in a row – averaging $6 per person for a turkey dinner ready to feed 10. While the cost of Thanksgiving has steadily risen over the past thirty-three years, the current rate is one of the lowest seen since 2010.
Want to see more? Download our holiday infographic to discover:
The cost of Thanksgiving dinner since 1986.
The standard ingredients for the traditional holiday meal.
PLUS

Possibly the most literal pie chart you have ever seen!