By now "omni-channel" is not a new word in your marketing playbook. In fact, you've probably seen it, read about it, talked about it at marketing conferences and probably discussed it in planning meetings. But what about omni-channel at the ATM? How does that fit in?
Traditionally it hasn't. The reason being, of course, that only experiences that can work together can be considered omni-channel. And the ATM, though certainly part of a multi-channel experience, has been incapable of truly connecting into the omni-channel experience. New technology, however, is beginning to bring the ATM into the realm of omni-channel integration – at least for some turnkey ATMs.
Here are three ways omni-channel at the ATM could be a game-changer.
Targeted Messaging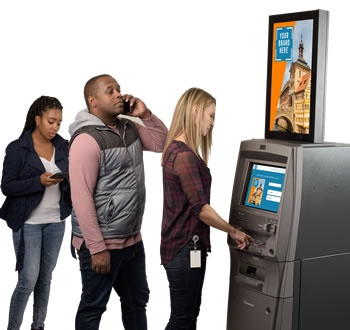 Scenario: Joe is using the ATM at his local gas station. He knows he can use this particular machine surcharge-free because it is listed on his financial institution's in-app locator. Joe swipes his card and is greeted with a PIN request screen…and an ad letting him know his financial institution is partnering with the local concert venue to provide a discount on tickets to upcoming shows. Details for the promotion are printed on Joe's ATM receipt and he happily texts the SMS number provided to discover further details.
Technology: Joe's financial institution is using a combination of purchase history and BIN targeting to provide a series of specific messages to several audiences with the goal of promoting some of the latest products, services and partnerships they recently implemented. This particular strategy requires remote message uploads and BIN specific message capabilities.
Information Gathering
Scenario: Andrea is using an ATM at her favorite grocery store to grab some cash for "girls' night" with her friends. Andrea has recently turned twenty-eight, has steady income, and pays rent monthly for her studio apartment. Before her transaction completes, a message pops up on the screen asking her when she might be interested in becoming a homeowner. This is something she's been thinking about recently so, curious, she selects "in the next 6-8 months". Her receipt prints out with information for her institution's home loan office and she receives a personal email within the week.
Technology: Andrea encountered a transaction interruption screen. When combined with BIN targeting, these screens can help gather further information about account holders including email addresses, general survey questions, or insight into levels of interest in specific products.
Mid-Transaction Messaging
Scenario: Rob is a heavy travel and uses ATMs all of the time. As a regular ATM user, he has a tendency to tune out the standard message screens. But when a message pops up while he is getting ready to type in his transaction amount he is surprised and finds himself reading the ad.
Technology: While most ATMs only offer "Welcome" and/or "Please Wait" screens, some advanced turnkey options allow financial institutions to present messages mid-transaction…when ATM users are paying the most attention.
Utilizing a combination of BIN targeting, mid-transaction messaging, and other interactive tools can help bring your institution in closer connection with your ATM user. While ATMs have not, traditionally, been capable of being a part of the omni-channel experience, new and improved technology at some turnkey machines is beginning to change the game.
Discover how FCTI can help bring your omni-channel to off-premise ATMs nationwide!