Over half of consumers (56%) now prefer mobile and online banking to traditional branch interactions, according to a recent study produced by Fiserv in conjunction with The Harris Poll. A similar survey of 6,000 banking customers by Gallup earlier this year reported corresponding results – with fifty-three percent (53%) of respondents noting a preference for digital banking over personal service. This consumer feedback is indicative of a general shift away from dependence on branch proximity in favor of digital and remote interactions.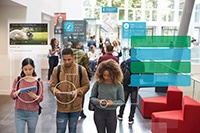 A 2017 shopper survey from Novantas Research also displayed an increasing preference for online and mobile applications noting a growth from twenty percent (20%) in 2014 to twenty-eight percent (28%) in 2016. Conversely, reliance on branches dropped from thirty percent (30%) to sixteen (16%).
But remote banking isn't just digital. The Fiserv study notes some ten percent (10%) of respondents also have a preference for phone banking and the ATM. According to Novantas, one of the top ranked convenience factors amongst financial institution shoppers remains a lack of foreign ATM fees – displaying a growth factor similar to that of mobile and online banking.
"Mobile users, now reaching around ninety-eight percent (98%) penetration in the United States, are increasingly reliant on convenience," said Robel Gugsa, CEO for FCTI, Inc. "…their expectations for that self-service experience are established by the device they hold in their hand – an innovative, up-to-date, user-focused personal computer."
Always-On Convenience
The connection between digital, phone, and ATM banking is clear – it is about fast convenience. The proliferation of wi-fi, mobile networks, and retail/financial institution ATM placements have made account and cash access a 24/7 availability rather than a 9-5 event.
After all, "going digital" does not mean account holders are less engaged. In many cases they are even more interactive with their chosen financial institution than ever before. Rather than a weekly or monthly branch visit, online banking users average nine logins per month while mobile banking users average as many as eleven.
A 2017 US Consumer Payment Study by TSYS' also reported an increase in mobile banking interactions. According to TSYS, sixty-three percent (63%) of consumers are currently using mobile banking applications on their smart phones or tablets. And those using apps several times per month or even weekly have increased from twenty-four percent (24%) in 2015 to forty-three percent (43%) in 2017.
Similarly, mobile banking users also report an increase in ATM usage. According to Raddon Research Insights, mobile banking users report a twenty-three to fifty-four percent (23 – 54%) increase in ATM usage, dependent on the frequency of their mobile banking usage. The more mobile interactive, the more they rely on conveniently placed ATMs.
"The days of analog banking are long behind us," says Rurik Bradbury, global head of communications and research at LivePerson Inc. "Digital is built around [account holder] convenience – and not the brand's."