FCTI, Inc. launches 2nd annual white paper analyzing current financial institution targeting and advertising techniques.
FCTI, Inc. today announced the launch of its newly updated "On Target Marketing: Volume 2 – Changing Channels & Communication Strategies for 2019 & Beyond". The paper presents new statistics on consumer interactions with financial institutions. Volume 2 also offers insights on advertising and marketing methods to appeal to new account holder behaviors and preferences.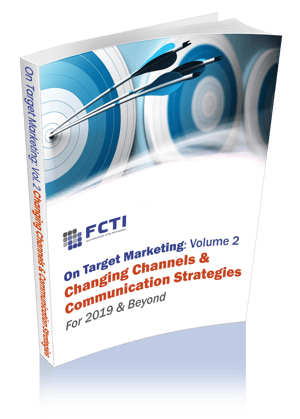 "Consumer behavior and response to advertising methods change at a much faster pace in the digital age," said Rebecca Hellmann, Director of Marketing for FCTI, Inc. "Following the high level of interest for our first iteration of 'On Target Marketing' last year, we felt it prudent to stay on top of this subject for ourselves as well as our financial institution partners.
"We are pleased to present a compilation of our ongoing research in Volume 2, and look forward to providing updates on this and a variety of other subjects through our weekly blog."
The new white paper covers tips and benchmarks for a variety of marketing methods including, but not limited to:
Crafting clear messaging for better response rates
Generating relevance
Paid Search
Social Media Advertising
Email
"On Target Marketing: Volume 2" is available for free download on FCTI's website below.