ATMs are considered a lucrative addition for many establishments. Studies have found that a standard on-site ATM can increase sales as much as eight percent. In addition, twenty-five percent of cash withdrawn at the ATM is typically spent on premises. The percentage of spend increases to as much as seventy-five percent for entertainment venues such as bars and restaurants.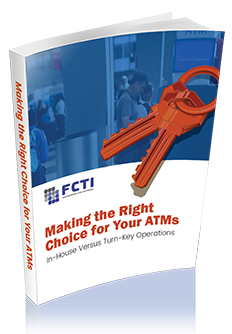 It is for this reason that many retail and event locations consider ATMs an essential feature - for both customers and revenue. In fact, a large number of venues featuring on-site access to cash own and operate the ATM in-house. This ATM program typically functions as a secondary business designed to provide additional convenience to customers - complete with its own vendors, resources, and revenues.
However, more and more retail and event establishments are choosing to work with ATM operators to implement turn-key ATM programs - leveraging a single vendor to free up cash, create new revenue opportunities, and drive in-store foot traffic and sales.
What are the real benefits of In-House versus Turn-key ATM operations? Find out more in this free white paper!
Download the Free White Paper Here: