"The only thing we are left with is brand," said Gary Vaynerchuk in his opening keynote at the 2019 Financial Brand Forum in Las Vegas, NV. But what is brand?
According to Merriam-Webster, brand is "a public image, reputation or identity conceived of as something to be marketed or promoted." Forbes takes this definition a step further noting, "…brand is what your prospect thinks of when he or she hears your brand name. It's everything the public thinks it knows about your name brand offering – both factual and emotional." Companies who continue to see brand as merely a name, logo, or slogan struggle with differentiation.
The Dangers of Brand Gone Wrong
Social media is daily growing the understanding business executives have of the real meaning of "brand." It is also highlighting the difficulties companies can encounter when a negative perception becomes pervasive.
Whole Foods, for instance, has been struggling for over a decade with their well-renowned nickname "Whole Paycheck." Chick-fil-a has recently reemerged in the news due to the donations of their associated charitable foundation. United Airlines took a big hit when a video of a passenger forcibly removed from an overbooked flight went viral.
Benefits of Branding Done Right
When appropriately implemented, brand becomes a positive differentiator in the marketplace.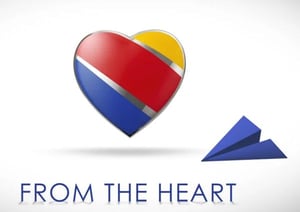 Southwest Airlines is a perfect example. Their logo is a heart. Their stock ticker is LUV. Their business strategy is to offer a plethora of flights with zero hidden fees. But, more importantly, they train their team members to create pleasant experiences and empathize. There are videos online of flight attendants telling jokes, helping out, and even rapping safety instructions.
In August of 2018, a tragic accident caused the death of Southwest passenger Jennifer Riordan. However, unlike United Airlines, which saw a spiral of bad press and significant loss in ticket sales, Southwest saw a temporary downturn in public sentiment.
Following their well-established brand strategy of "people first," the business immediately offered a video apology directly from their CEO. They gave every passenger aboard the aircraft $5,000 cash and a $1,000 travel voucher and worked to place a significant focus on the pilots, crew, and passengers of the flight. Southwest is currently the most popular airline in the United States.
Branding Tips from the C-Suite
This year's Financial Brand Forum brought branding to the forefront of discussion with "Lessons from the C-Suite." Despite their differing stories, strategies, and approach, executives from 1stBank, Ally Bank, and Umpqua all had a very similar message – it is all about the brand.
"Create a vision, and your people will follow," Jim Reuter, CEO for 1stBank.
In his presentation, Reuter highlighted his financial institution's "vision" of helping account holders and promoting business partners. The bank has taken strides to create advertising programs, events, games, and more all with these targets firmly in mind. The result has been significant growth in brand awareness, accounts, and business partner success.
Center on the customer. Solve for pain points: Andrea Brimmer, CMO & PR Officer for Ally Bank.
Ally Bank has built its brand on being the first and number one digital bank. As a result, a good fifty percent of their customer base are Millennials. This generation is socially conscious, digitally dependent, and experience-oriented.
So, Ally has placed its focus on delivering products and experiences which differentiate their brand and work to create an emotional connection. While they remain a digital bank, they are working to generate interactive experiences such as their "Lucky Pennies" and "Banksgiving" programs.
Culture should come first. Let it guide your strategy: Rilla Delorier, EVP/CSO for Umpqua Bank.
Umpqua Bank made a name for themselves several years ago when they became one of the first financial institutions to open their branches to the community. Their locations became coffee shops, yoga studios, and gathering places for local events. Their mission was to create human connections. Now, with the continued growth in smartphone, even creating a community space does not guarantee personal relationships.
So, Umpqua decided to bring their human connection strategy to mobile through their new personalized banking mobile application, called Go-To Banking. Account holders can select their personal banker (a real, live person!) and direct their financial questions to an expert at their leisure.
Show Your Difference
Brand is far more than a name and logo. It is the consumer perception of your business. How people understand your brand can hurt your bottom line or help bolster you in bad times. Bottom line, brand is fast becoming the foundation of your businesses. The strength with which you build it can make or break your financial institution.