Businesses are investing in self-service. The Harvard Business Review
has reported digital app orders for Taco Bell average 20% more
in revenue than orders made at the store (SalesForce). According
to Food Tech Connect, 35% of 18 to 34-year-olds like to use smartphones
or tablets to place their orders. 40% would rather make a
mobile payment as well.
"56% of consumers now prefer mobile and online to traditional branch transactions."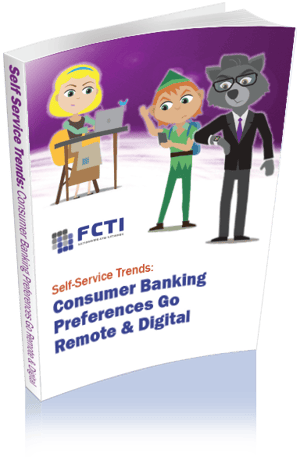 And it's not only restaurants. Grocery stores and retail chains are capitalizing on the tech dependent consumer's preference for avoiding small talk and long lines…by installing more self-checkout machines
and expanding online/mobile ordering for pick-up. But they are not relying solely on organic growth. Many retailers are training customer expectations by calling out to consumers on their way to standard checkouts to pull them over to the self-service machines (HuffPost). Some chains have even set store goals to steer upwards of half their customers through self-checkout lanes.
Whether it's to order food, shop online, fix their plumbing, or handle a customer service issue, many consumers are taking matters into their own hands - via social media and mobile/online applications. Why would handling finances be any different? In this white paper you will learn about:
The numbers behind the retail self-service push

The future of customer service.
How are banks and credit unions being affected?
Learn about the growing trends in self-service. Download the FREE white paper now!
Download the FREE White Paper Here: