Today's account holders are steadily growing more digital. They are using smartphones and tablets to fulfill their desire for unprecedented levels of connectivity to family, friends, and work. Over the past few years, this eagerness for connection has grown to include preferred brands, local stores, and even their financial institution.
"The ATM presents a great innovation for the industry. It's half a century old, and yet ongoing innovation keeps the device a critical touchpoint for consumers."
~Todd Clark, President/CEO of CO-OP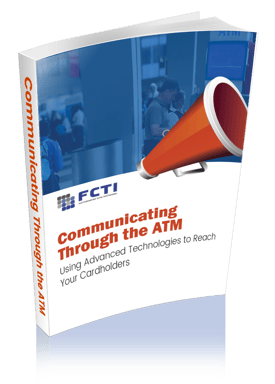 But account holder demand for connected interaction goes beyond a desire for enhanced support and account access. Similar to expectations seen in the retail sector, digital consumers prefer to see a wide array of account products and services made easily available. Fortunately, as financial services providers, banks and credit unions are in a unique position of awarenes in regard to their account holders' personal information and spending habits - allowing financial institutions to more accurately segment their audience and provide specific messages and benefits.
How can the ATM help financial institutions better deliver their digital message and communicate with their cardholders? Find out in this FREE white paper from FCTI!
Download the FREE White Paper Here: