It's no secret that banks and credit unions are changing the ways they provide services to their account holders – pushing for less expensive service channels such as web portals, mobile applications, and ATMs. As a result, the number of available bank branches has dropped over forty percent (40%) since 1980, according to a recent study Teller Line Study from FMSI. Now, most U.S. consumers still choose to get their cash from an ATM – often loading up on cash five or more times per month. Financial Industry experts, citing the change to bank retail delivery, predict a focus on increasing ATM availability – resulting in a significant push for banks and credit unions to find ways to offer surcharge-free transactions.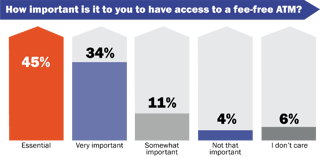 To meet these demands, financial institutions (FI) have three options – heavily invest in equipment, software, and personnel to expand their own ATM presence; offer third-party surcharge-free access through a variety of surcharge-free networks, or work directly with one or more ATM operators to provide surcharge-free access and FI brand promotion at popular retail locations nationwide.
In order to create a robust network of ATMs that appeal to consumers and FIs, these ATM operators and networks work to partner with pharmacies, grocery markets, events venues, convenience stores, and other top locations. In turn, the availability of one or more surcharge-free options provides a variety of additional benefits for the retailer.
Combat Declining Surcharge Transactions – Through Increased Sales
Most retail ATMs are already seeing the writing on the wall – consumers don't want to pay to access their money. As banks and credit unions have turned their focus to increasing self-service account access and surcharge-free transactions have become more wide-spread, more and more consumers are eschewing surcharge fees. While the current drop in surcharge transactions is averaging three percent (3%) year-over-year, experts predict this trend to grow exponentially. In fact, seventy-one percent (71%) of consumers report purposely avoiding ATM surcharges and fifty-nine percent (59%) actively seek out ATMs in surcharge-free networks, according to a Customer Monitor Survey Series on Banking and Channels from Mercator Advisory Group.

This is good news for retailers offering surcharge-free, who will likely see an increase in regular store sales. Research conducted by The NPD Group and The Nielson Co. shows ATM users are more likely than non-ATM users to be consistent patrons of the same store. These ATM users typically visit their preferred stores more often and purchase up to twice as many products in-store than non-ATM users.
While strictly surcharge retail locations see an ongoing drop in surcharged ATM use…and customers, those retailers offering surcharge-free are more likely to retain far more of their ATM user base and sales…while attracting more ATM users away from surcharge locations.
Increases In-foot Traffic
Banks and credit unions who partner with ATM operators and surcharge-free networks actively advertise their increased ATM availability to account holders as an additional benefit of banking with their institution. These financial service providers notify cardholders through press releases, email blasts, newsletters, signage, direct mail, and digital advertising. In addition, network logos are featured on the backs of all issued debit cards for the institution and account holders are encouraged to either use the bank's online/mobile locator or redirected to the locator hosted by their preferred partner(s).
This additional advertising has a significant influence on ATM user behavior – especially those seeking surcharge-free ATM access. As two-thirds of those surveyed by NPD Group and The Nielson Co. cited the ATM as a main reason they selected the location in which they shop, the growing number of surcharge-free users are more likely to change their behavior and habits to accommodate access to a surcharge-free ATM. The result is a steady increase in store foot traffic for participating locations.
Why Surcharge-Free?
Bank transformation programs are putting a greater influence on self-service channels, with an emphasis on surcharge-free ATM access for convenient cash and account access. This push by the banks has helped fuel a growing consumer preference for surcharge-free ATMs. The trend has spurred significant growth of bank and consumer participation in surcharge-free programs. It has also created a wealth of opportunity for retailers create partnerships that help combat dipping surcharge transaction volumes by attracting surcharge-free ATM users – driving an increase in foot traffic and in-store sales growth through implementation surcharge-free transactions at their ATMs.
Discover how FCTI can help your business grow revenues and foot-traffic with surcharge-free options at the ATM!