More than sixty percent (60%) of those 25+ would prefer companies to contact them through email, according to the Adobe "Email Use 2017 – US Report". There are 3.7 billion worldwide email users and around 3,104,450,712 legitimate emails sent every hour. Experts anticipate continued growth in active email accounts from 6.32 billion to 7.71 billion by 2021.
Your email program isn't dead. It's drowning. But why?
According to a benchmark report from dotmailer over sixty percent (66%) of brands are neglecting to use segmentation and over thirty percent (37%) mixed editorial content with sales. Overall, most brands are failing to fully strategize their email activity.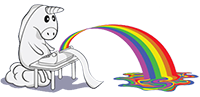 In a recent webinar from MarketingProfs Karen Talavera, CEO and Founder of Synchronicity Marketing detailed some key trends and insights into how to see your email rise above the flood.
Increase use of series emails. While single emails can be somewhat effective, they are not a viable option for complicated products or services – such as those presented by financial institutions. Where the intent is to teach, train, guide, and build trust a series of emails practically essential. Sending several messages over a period of time allows delivery of information in smaller doses, creates consistent touches, and generates better informational retention.
Use agile design. People are reading your emails on their phone. Probably around half the time, at least. If your email looks wonky on a mobile device you are pretty much guaranteed to lose around half of your audience.
Create personalized experiences. We're living in the age of "me". Where consumers want to control when and where they interact with their chosen brands. Nearly half of email subscribers (49%) say lack of relevancy in email drives them to opt-out. Another forty-three percent (43%) say they are more likely to purchase from brands that individualize offers based on search and browsing history. Relevant information, products, services, and offers help drive email and business interactions.
Utilize segmentation in your lists. Move account holders to different lists based on their purchasing habits, engagement, preferred outreach channel, and stage within product/service purchase funnels. Creating list segments based on these behaviors allows your institution to get more personal with offers, reminders, events, and product offers without the hassle of creating new lists for every individual email or series.
Use tools and software to help optimize your message. How something is stated can make or break your email response rates. This is exactly why it never hurts to be extra sure you are using the words to which people will pay attention. Services like Persado and Phrasee can help you select the correct subject lines and monitor your brand voice to increase opens, clicks, and email ROI.
Interactive emails may be the future. Have you received an email with a photo gallery, poll, or drop down that triggered without you having to leave the email? These messages used interactive email technology. eBay used this tech to run a quiz – that received a sixty-seven percent (67%) higher completion rate than when the control campaign requiring a click-thru to web hosting. Some companies offering differing levels of interactive design include Litmus and Privy.
Your account holders both expect and prefer you to contact them through email. But you are still vying for their attention in the inbox. Taking some time to segment email lists and craft appropriate series messages to increase trust, retention, and personalization can help your messages continue to stand out and get noticed.
Now you can segment and create personalized messages for ATM users, too!