It's that time of year where everyone is breaking out the tricks, treats, costumes, and pumpkins. If you haven't been living under a rock, you have probably noticed the increase in costume lists, complaints, and zombies. And, no, I don't mean Jared from the meeting this morning.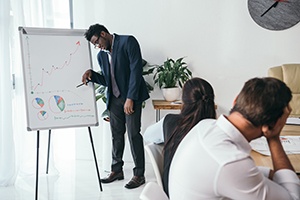 But Halloween doesn't just have to be for the kids. It can be for financial institutions, too!
Here are six fun ways to claim Halloween, and get some brand recognition and cross-sell, too!
Keep your lights on – Everyone knows the historic symbol for trick-or-treat participation…leave the front light on. For financial institutions conveniently located in neighborhoods and near apartment complexes, this is participation and recognition made easy! Designate a volunteer to stick around and hand out some candy to local kids and some branded goods and information for parents, too.
Trick or…Treasure? – Talk to your local neighborhood and community associations to sponsor a trick-or-treat map of houses planning to participate in the Halloween festivities. Parents and children get an easier way to plan their evening…and your institution gets some additional publicity.
Party! – Make your branch a destination spot by hosting a community Halloween party or festival. Invite local businesses to set up a decorated "vendors" area, hand out candy, add some games and/or bounce houses and you have a fast way to make some new community and business friends. Don't have time to make this work this Halloween? No worries, a festival works for just about any holiday!
Costume Contest – Looking for a way to help promote your social media presence? Host a kid's Halloween Costume Photo Contest through Facebook, Twitter, or Instagram. Possible rewards include $25 to the winning child's savings account and gift cards to local business partners.
Latte Dah! – If branch visits are what you are after, nothing brings in foot traffic quite like free stuff. And there is nothing that says "Fall" quite like hot milky coffee. Grab some branded, recycled coffee cups or wraps and start brewing!
Halloween…Loans? – You'd be surprised how many people will take you upon on financing their Halloween decorations or party, among other things. Take the opportunity to create a "Spooktacular" savings on small personal loans.
Don't forget to advertise your Halloween programs and other timely promotions at the ATM! Find out how your financial institution can utilize omni-channel and personalized ATM marketing here.