The proliferation of personal technology has created a great deal of added new conveniences in our everyday lives – and a growing dependence on connectivity. With eighty-one percent of adults carrying smartphones and eight-four percent owning a computer, it is no surprise that online and mobile credit union applications have become a must-have. In addition to convenience, these avenues of digital account access provide a sense of security and control account holders have come to desire.
However, the draw of hands-on convenience is also changing account holder behaviors. Constant access to account information has customers and members taking basic banking services into their own hands – reserving in-person transactions for more in-depth questions and programs. The result is an up-tick in self-service use with a slow and steady drop in face-to-face interactions. Research from CACI, an IT solutions provider, predicts branch visits will fall from an average of seven per year to a mere four by 2022.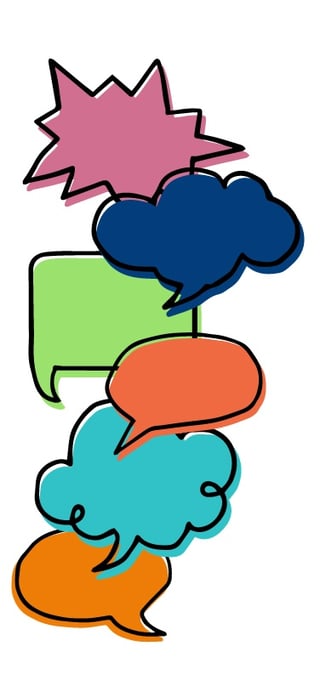 While a lack of personal interactions may seem worrisome, digital interactions are predicted to see a steep rise. And, with their personal assistant at their fingertips, there are a multitude of ways for banks and credit unions to increase and dominate account holder outreach.
Email
If you are thinking about backing off on email messaging, don't. Despite complaints of an overflowing inbox, email is of increasing relevance to reach account holders. According to research from Harland Clarke Digital, email has reached an average of forty-five percent penetration for credit unions and twenty-nine percent for banks. Open and click rates are even higher for current account holders.
Social Media
Use of social media has seen significant growth with the advent of the smartphone. According to data from Statista, some eighty-one percent of the US population has reported having a profile on one or more social media platforms as of 2017. But, despite its penetration, the majority of social media users see it as a communication device.
While some sixty-seven percent of financial institutions purchase social media ads, Salesforce.com reports average click through rates remain well below half a percent. Whereas one in three social media users turn to customer care on their preferred social media platform even before reaching out via telephone or email. As a result, social media experts encourage a focus on content and customer service rather than paid advertising for outreach to current and potential account holders.
Paid Search
Delving into the realm of paid search may seem a dubious venture – especially in large, competitive markets. A mortgage lending ad, for instance, could run as much as $15 per click in Los Angeles while costing a mere $1.75 in rural Kansas. But search engines are a go-to for the majority of consumers and a great place to reach both current and potential account holders.
According to Go Local Interactive paid ads reach approximately eighty percent of US consumers – and AdWords click-through rates average over two percent. With average cost per click coming in just under $4, paid search can be a fairly reliable marketing and message resource for reaching digital account holders.
Mobile Advertising
Despite the appeal, there is really only one word for mobile advertising – NO. A recent consumer survey from HubSpot found that seventy percent of respondents dislike mobile marketing. In fact, the distaste is so extreme that the installation of mobile ad blocking software surged ninety percent in 2015 and continues to maintain steady popularity. Other than opt-in Text/SMS alert programs, experts suggest limiting ads to in-app messages or risk a significant amount of negative feedback.
ATM Messaging
The ATM may not be an immediate thought when strategizing outreach to the digital account holder. But it should be. A recent study from Raddon, a provider of research, analysis, and strategic guidance for financial institutions, shows a marked increase in ATM usage among mobile banking users. Fifty-four percent of frequent mobile users and twenty-three percent of all mobile users reported using the ATM more often. This change in behavior is generating an additional opportunity for outreach to an already attentive and engaged audience.
Takeaways
As personal technology continues to become a mainstay of our culture, outreach to the digital account holder becomes ever more important. However, not all avenues of communication are created equal and it is essential to walk the line of present without becoming intrusive. While face-to-face interactions remain on the decline, there are a variety of ways account holders are welcoming their banks and credit unions further into their lives.