The average cost of daycare in the United States is between $9,000 and $9,600 per child per year. And that pricing varies widely by state. Infant care in Mississippi, for example, may run a bit over $5,000 while someone in Indiana may pay more than $12,000. In over 28 states, the costs for childcare average higher than the fees for the state's public colleges. (Fortune).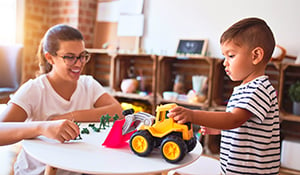 While the overall costs can seem daunting, there are ways for families of varying incomes to make childcare expenses more manageable. Here are three ways to better budget for infant and pre-kindergarten expenses.
Dependent Care Financial Savings Accounts (DCFSA) – Many employers offer DCFSA options to their employees. These accounts are a pre-tax benefit that can be used to pay for daycare, nursery school, preschool, and even summer day camps.
PROS:
You are less likely to spend the money needed for daycare expenses since they are taken out of your paycheck before the funds are delivered to you.
Lower your total taxable income for the year.
Easy to budget.
CONS:
There is a maximum allowed for individuals and married filing jointly of $5,000. Married filing separately is limited to $2,500. In many states, this will not fully cover a year of childcare.
State Child Care Assistance Programs – Each state receives funding from the federal government to provide financial assistance to families in need. This money is used to assist with childcare costs as well as Head Start programs, which promote school readiness for low-income families. Child Care Aware of America is an excellent resource for discovering what programs are available within your state as well as contact information for your local Child Care Resource & Referral Agencies.
PROS:
Assistance with paying child care costs to help them become more affordable for your family.
CONS:
Programs vary by state.
Programs are income-based. As such, some states have lower income cut-offs than others.
Shop Around – In the quest to become more budget-conscious, it is unlikely you would select a childcare provider without investigating options, facilities, backgrounds, and pricing. Keep in mind that childcare centers rarely turn much in the way of profit (org). So, more expensive facilities are likely paying to keep quality educators on staff and increase classroom resources. That being said, a facility with fewer bells and whistles may be able to provide stability and quality care at a lower cost. Many locations also have sliding payment scales or discounts for paying a half or full year upfront.
PROS:
Investigation can often help you find a superior facility at a more reasonable rate.
Paying upfront may save hundreds of dollars
CONS:
Many families do not have access to the money required to provide an up-front payment.
It takes time and energy to investigate childcare facilities.
For shy people, negotiation can be hard.
Childcare is a considerable expense for families. Fortunately, it is a cost that is alleviated once children age into the public-school system. While it may require some cost-cutting, special savings, financial assistance, or due diligence, there are ways to make your money work.