States and counties across the US are determining when and how to "reopen." But it is becoming clear that these processes are likely to be different for everyone. Many people are still looking at another few weeks or more of reduced activity and sheltering in place. Even states and municipalities entering Phase 1 or 2 of reopening are looking at a higher than usual amount of time at home.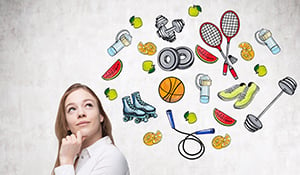 Using this time to create healthier habits such as staying hydrated and switching to more nutritious snacks can help you save money. But there are many other ways to both relieve stress and help generate future financial savings.
Here are three quarantine activities that can help you save money in the long-term.
Gardens are not just for people with yards. If you've ever wondered how other people manage to make their food so tasty without frying it, spices are the answer. But fresh, quality spices can get pretty expensive. If you happen to have a yard, there isn't too much holding you back from getting started other than planning, a few tools, and some seeds. Fortunately, there are quite a few online guides for beginners. There are also some cool options for starter kits and seeds.
Those who live in apartments or condos usually have to take more consideration when figuring out what they can and cannot grow. Herbs such as mint, chives, basil, and thyme are relatively easy to grow in small containers in a window sill. For those with a bit more space and sun, it is possible to expand to vegetables and even some fruits to save a bit of extra cash. Tomatoes, chili peppers, and salad greens are good options for the former. However, those more inclined to cultivating fruit should look into strawberries or Meyer lemons. It should be noted that strawberries often take around a year to begin producing good fruit. Check out this apartment gardening guide before you get started.
Food preservation is more than making pickles. Not that you shouldn't make pickles if you have the know-how. But you can apply that knowledge to other foods as well as expand your repertoire. Whether you are purchasing your fruits and vegetables or growing your own, canning, freezing, and drying are three methods you can integrate into your routine to help your foods last longer and reduce waste. The less food you and your household waste, the more money you can save on future food purchases. It might not save you thousands of dollars upfront, but the pennies add up over time. Check out this overview to help you get started.
Sewing can save you some serious cash. What if you didn't have to buy a replacement shirt or pair of pants due to a ripped or fraying seam? Imagine being able to alter the clothing you find at the store to fit you in that one spot where it was not quite flattering? All of these things are possible if you know how to sew. The money adds up quickly when you think about all of the new clothing and alterations you may have previously needed to purchase. For those with the time and desire, there are plenty of free resources for beginners such as these online classes from CrazyLittleProjects.
You would be surprised how much money one lifestyle change or hobby can create in your well-being as well as your budget. While others may turn to baking or couch-surfing, trying out one of these three options can help you feel more productive. These times may be unusual, but they are allowing many of us to build habits and hobbies that will benefit us in the future.