Banks and Credit Unions are terrible at writing content. A recent report from VisibleThread discovered the average financial institution scores a 48 or lower on the Flesch-Kincaid readability test – a metric rating the ability of an average consumer to understand what is written.
Where the average consumer reads at the 8th-grade level.
Where 8th-grade readability is a score of 70.
Where James Joyce's Ulysses scores a 74.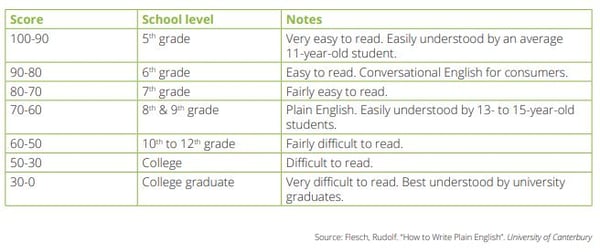 Readability is largely dependent on sentence structure, size, and complexity of words. This can pose a serious issue for businesses offering products and services consumers already find complicated…or even tortuous.
Here are 10 ways your institution's content could be killing business:
You aren't speaking to your audience. I get it. You know about financial services. You are surrounded by other people who ALSO know about financial services. But the majority of consumers know next to nothing about money. And pretty much zip about finance. Try ditching the jargon. Act like you are writing for your 14-year-old nephew. What 14-year-old finds finances interesting? Exactly.
You're not saying anything. Or you're trying to say too much. Which is the same thing, really. If you can't package your subject, point, or goal into a single short phrase, things get weird. This blog, for instance, is to "describe what most banks and credit unions get wrong when writing content."
Your content is not what was expected. You talk about what is in your subject line, headline, or navigation link. But not until paragraph two. Or three. But your audience did not get past the first two sentences. Opening text should have a direct connection to the headline.
Your content is presented as blocks of text. Most audiences are skimmers, not readers. A 2008 study reported webpage visitors read an average of 20% of webpage text (Nielsen Norman Group). A similar study reported email newsletters receive approximately 51 seconds of time once opened. The takeaway? Highlight your main points.
Two words. Information overload. There is a scene in the movie Ant-Man where Luis is explaining how he heard about a tip. It's funny because we all know someone who does this. But the detail with which he explains dilutes the message. Content should contain the minimum information required to convey the message.
Your sentences are really long. Words like actually, currently, really, literally, that, very, perhaps, just, and maybe destroy clarity. Keep this language in your arsenal if you need to bloat word counts for a university paper. Otherwise, focus on using strong, meaningful vocabulary that attracts attention And keep it concise. You can find some tips on building better sentences here.
You're sending people off-page. Don't be the middleman. Link to additional information, not essentials.
You don't use familiar concepts. It can be difficult to teach an old dog new tricks. But connecting new ideas to old standbys helps create cognitive links. Use metaphors, similes, common phrases, or even pop culture to help ingrain your point.
Your hefty paragraphs are daunting. Skimmers focus on headlines, lists, call-out text, and active words. And skip over large paragraph chunks.
Your call-to-action is weak or non-existent. How is the reader supposed to react if they don't know what you want them to do? Tell them.
Your content may be killing engagement but it doesn't have to. Take the time to revise your message with a focus on readability and clarity. Be sure to you are keeping your target audience in mind. And remember, simple is better.
Want a list of resources to help you take steps toward better content?